I don't know about you but I'm a HUGE fan of It's a Wonderful Life. Every now and then I find someone who has never watched the movie or worse yet (she gasps in horror), doesn't like it!
But few know the history behind the movie and how this much beloved Christmas classic was almost lost to modern fans!
It's a Wonderful Life is based on the short story, The Greatest Gift, by Philip Van Doren Stern. After spending several years trying to sell his story to publishers with no success (boy, can I relate), Stern decided to have the story printed in pamphlet form and sent it as his Christmas card in 1939. Of the more than 200 cards sent that year, one found its way to RKO Pictures and into the hands of director Frank Capra who bought the rights to the story. Initially, Cary Grant had been tapped to play the beleaguered George Bailey but the project fell through and was shelved until  Capra revived it in 1945, this time with Jimmy Stewart in the starring role.
Although It's a Wonderful Life was nominated for 5 Academy Awards, including best picture and best actor, it failed to win a single one. Not only that, but the Frank Capra film was not a favorite with the movie going public who was hungry for movies about the Allied victory in World War 2. The movie was a total box office flop and wasn't even able to earn back its $3.7 million dollar production cost. However, of the 400 movies released in 1947, it placed 26th in box office revenue, one spot ahead of another Christmas-time favorite, Miracle on 34th Street.
So how did this classic film rise to the level of the most beloved Christmas film of all time?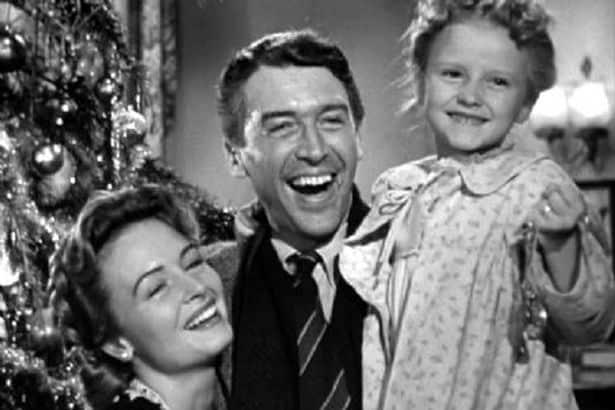 In the years following its release, It's a Wonderful Life was forgotten by moviegoers and Hollywoood alike. So much so that the film's copyright was allowed to lapse in the 1970s. Once the movie had been declared in the public domain, network television stations jumped at the opportunity to air a Frank Capra holiday film at no cost to them.
And air it they did. In the 1970s and 80s you'd have been hard pressed to find a time when it wasn't airing on one network or another. As film historian Leonard Maltin recalls, "we literally kept changing channels and came upon it in different stage of its progress. And you can't not watch. You can't turn it off."
What followed was a rebirth of the film as it finally hit home with a new generation of Americans who could relate to the struggles of George Bailey and cheered him on as he struggled to discover the blessings in a life that seemed to have gone hopelessly off plan. In 1990, nearly 45 years after the film's release, The Library of Congress deemed It's a Wonderful Life as "culturally, historically, or aesthetically significant."
So there you have it. One of the most treasured Christmas classics of all time, was nearly lost forever in a Hollywood vault. I don't know about you but our family watches this movie several times each holiday season. Even though my children are grown we gather around the TV and as the film reaches it's denouemnt we begin shouting the lines along with Jimmy Stewart as he discovers his mouth is bleeding and ZuZu's petals reappear in his pocket. We laugh and shout along with George as he rediscovers the gift of life and wishes every building in town a 'Merry Christmas.' And then we shed tears of joy as all of Bedford Falls shows up in celebration and support of the man who had touched all their lives in so many countless little ways that made a huge difference. I get goosies just thinking about it!
I think I'll go make a cup of tea, snuggle under a blanket and watch It's a Wonderful Life!
And in my best Jimmy Stewart imitation, I wish you all a Merry Christmas!
---
Giveaway**
This giveaway is now closed!
Congratulations to our winner, Tarissa!
I'm giving away a hardback copy of Philip Van Doren Stern's, The Greatest Gift. To enter, share your favorite line or scene from It's a Wonderful Life in the comments below.
**Giveaway ends, midnight, December 23rd.